Jet Sun Engineering & Trading Services Sdn. Bhd. formed on August 2010, though the company is relatively young but the group of partners have been actively involved in the market back in year 2007.
Lead by experienced management and technical personal, Jet Sun Malaysia soon established themselves as one of the main contractor / supplier for Palm Oil Mill effluent treatment related field, especially in the Sabah region. One of the major customers of Jet Sun Malaysia is IOI Corporation where Jet Sun been appointed as one of the regular contractor / Effluent Treatment advisor for their Palm Oil Mill within this region.
Moving forward, Jet Sun Malaysia is currently associated with well-established turnkey equipment supplier for effluent treatment from China as well as Malaysia in order to provide One Stop Solution for all our clients' effluent treatment system.
Jet Sun has then carried out substantial study on the current conventional effluent system of POMs and come out with a cost effective long term solution for POMs, which we named it Jet Sun Polishing System. Our main target is to tackle the initial problem of the effluent system, using our very own designed of products to return the Effluent system to what it supposed to be originally.
First stage
of trial been carried out and results collected was encouraging. Final tuning and monitoring of the system is currently on going.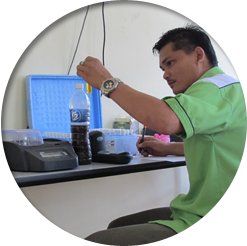 Get to know our
Products & Services
Following are the major products / services Jet Sun provided for the POM industries: –
Supply Geosynthetics Tube, herein called Geotube® for major desludging of silted effluent pond, our principal Tencate is a Netherland owned company, currently being world No.1 in Geosynthetics related industries. Having manufacturing plant in China, Malaysia (Senawang and Shah Alam), Europe and India.
Sole distributor for China Lanwu Submersible Mixer whom formally being the under license manufacturer for German submersible mixer.
Distributor for USA AIRE-02 Jet Aerators.
Handling DOE related method, for example application for KB (Kebenaran Bertulis) for carrying out desludging works for POM Effluent system.
Jet Sun Polishing System which is to reduce the BOD of effluent before discharge, currently most POMs are being lead to very expensive system like MBR polishing plant, concrete aeration polishing plant, Ultra Filtration polishing plant etc. Unfortunately most systems are not being able to perform trouble less and meet the requirement. One of the major reason is all this system has neglected the root of the problem, meaning the upstream of the effluent system.